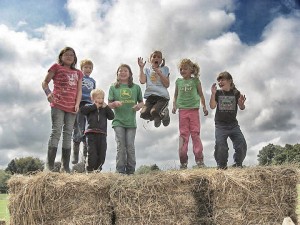 BIRTHDAY PACKAGE is $125.00 and includes:
Fire Site Rental (11:00 a.m. – 2:00 p.m. or 3:00 p.m. – 6:00 p.m.)
FREE Admission for Birthday Boy/Girl
FREE T-shirt for Birthday Boy/Girl
Admission for Ten (10)
Additional Guests = $7.00 each
A $50.00 deposit is required
There are two picnic tables available for your use.  One 2' 1/2" x 6' table is also available (if you choose) for presents and/or food.
Please note that all guests must pay admission to enter the "Patch." Therefore, we have provided a discount price for extra children or parents/guardians that may want to accompany their children to your birthday event. We ask that you complete one Birthday Payment Form.
In an effort to make your birthday party an enjoyable time for you, we recommend providing Admission with a list of your guests to check in upon their arrival.
Please see our Birthday Payment Form for additional information and you may wish to review our Frequently Asked Questions.
Questions or reservation inquiries may be sent using this contact form or email info@sissonspumpkinpatch.com. For reservations, please include the date(s) you are interested and preference of the 11:00 a.m. or 3:00 p.m. time frame.